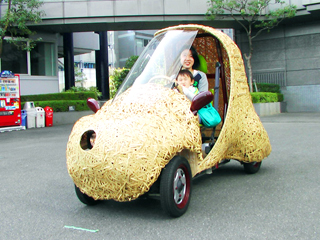 Copyright Kyoto University

Kyoto University's Venture Business Laboratory (VBL) in Kyoto Prefecture unveiled a unique single-seat electric vehicle equipped with a body made from bamboo at its test-drive event on November 2, 2008. The vehicle was developed under the Kyoto Electric Car Development Project, which is one of the laboratory's major initiatives. Nicknamed Bamgoo, this eco-car's body is made of braided rods of bamboo, one of the local specialty products of the area.
With this project, the VBL aims to develop eco-friendly electric cars in Kyoto by integrating advanced technologies with traditional Japanese culture and craftsmanship in close partnership with the city of Kyoto, research institutes, and local businesses under the proposal of and with collaboration with the Kyoto Neo-Nishiyama Culture Project.
The Bamgoo's body is made of 900 thin bamboo rods, each measuring two meters long by one centimeter wide. Craftsmen of Toyochikuko, Inc., a bamboo products manufacturer in the city of Muko in Kyoto Prefecture, spent a month weaving the rods into the body and applied natural resin lacquer on some parts.
The Bamgoo was shown to the public at the Kyoto University Museum on November 5, 2008, followed by another exhibition at the Kyoto Environment Festival 2008, held at a local event hall in Kyoto on December 13 and 14. At the festival, the Bamgoo was displayed in the next generation vehicles' zone at the VBL booth. Visitors were able to test drive the Bamgoo and other vehicles already developed by the VBL, including an electric vehicle made mostly of wood, which resembles the Detroit Electric car (manufactured by a company in Detroit from 1907 to 1939), and an electric rickshaw, which is a retrofitted traditional Japanese human-powered two-wheeled cart.
Posted: 2009/04/19 06:00:15 AM