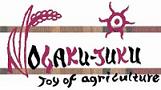 [Type] Student club
[Field] Environmental education, Food & Agriculture, Advocacy, Events, Fieldwork
[Group Profile]
Why are there no rice fields at Waseda University?
(Waseda means fields of early rice)
We established this club in 2003. The original members were students who took "Study through rural experience: introduction to agriculture and forestry issues" course and those who sympathized with their ideas. This is one of the common courses for all students provided by the Waseda University Open Education Center. We hope that more and more people will identify the issues in agriculture through such an experience as "touching soil"in cities, at universities and anywhere around them.
[Main Activities]
"Nohgaku"in Japanese means study of agriculture; however, we give particular Chinese characters in order that "Nohgaku"means enjoying agriculture. We enjoy agriculture and think about agriculture. Our aim is to try to promote new values through enjoying agriculture based at "Waseden", which (is a small rice field) we cultivated in Ohkuma garden located in the premises of Waseda University.
Agriculture produces food that is essential for human being. To raise awareness of agriculture, we have two ways of approaching; both from universities in cities and from farming villages. At both places, we involve a variety of people such as students, kindergartners and farmers to encourage communication among those people.
[Main Projects]
-Cultivating rice fields in Ohkuma-garden project
-Waseda kids project
-Green tourism project
-Growing blueberries at Science and Engineering campus project
-Waseda rice roads project
-"Hyakushokai":farmers meeting
-"Midori (Mizu, Tsuchi, Sato) college meeting":session with Ministry of
Agriculture, Forestry and Fisheries
Note; In this particular case, "Midori"consists of Mizu, Tsuchi and Satoyama in Japanese, which means water, soil and Satoyama respectively.
Student NPO "Nohgaku juku's" page

* pages were translated and written by JFS-Youth Team members.