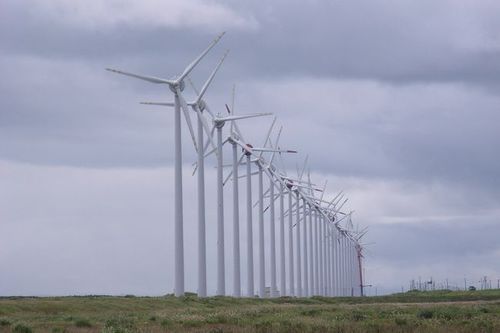 Image by studio tdes. Some Rights Reserved.
A team of engineers from the New Energy and Industrial Technology Development Organization (NEDO), Waseda University, the Institute of Applied Energy, and Kobe Steel Ltd. announced on April 20, 2017, the launch of verification testing of a Compressed Air Energy Storage (CAES) system in Kawazu, Shizuoka Prefecture, in central Japan. The goal is to stabilize wind power output, which is likely to fluctuate with changing wind conditions, for use on electrical grids.
The CAES compresses air using power from wind turbines and stores it in a tank at high pressure. When electricity is needed, the compressed air activates a generator to produce electric power. The system is composed of commercially available equipment for higher reliability, avoids use of rare metals and harmful substances, and is environmentally clean as it discharges only air and water. It also stores the heat generated while compressing air and recycles it for higher charge-discharge efficiency.
Two new control technologies were developed for the system: one is power fluctuation suppression, which is to control the charge and discharge process to minimize changes in wind-generated power supplied to the electrical grid; and the other is planned power generation control, which is to control the charge and discharge process to minimize differences between power generation plans and actual generation.
The system undergoing testing is connected to Tokyo Electric Power Company's Higashi-Izu power plant, an 11-turbine, 18,370-kW wind farm that began operating in August 2015. The team aims to ready its output fluctuation control technology for commercial use by the end of FY2018.