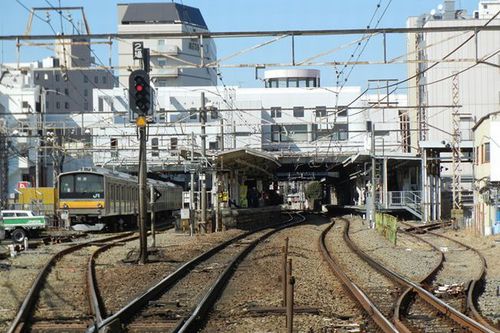 Image by Rubber Soul Some Rights Reserved.
Hydrogen as an energy source has been gathering increasing attention. In spring 2017 a new project will start at a railway station in Japan in which solar-generated electricity is stored as hydrogen gas and then used on demand for generating power and heat. Here we report on this autonomous energy system courtesy of Smart Japan, an online media services provider specializing in energy conservation, storage, and generation.
The Yokohama Branch Office of East Japan Railway Company (JR East) and the City of Kawasaki announced on March 24, 2016, that they will introduce an autonomous energy supply system that utilizes hydrogen generated from renewable energy sources. The system will be installed at Musashi-Mizonokuchi Station on the Nambu Line in Takatsu ward of Kawasaki City, and will start operating in spring of 2017. Toshiba Corporation, the manufacturer of the system, plans to deliver the system in October 2016.
Since 2012, JR East has been advancing an initiative to equip railway stations with various environmental technologies. Dubbed "Ecoste," or eco-friendly station, the initiative has introduced LED lighting and roof greening at Yotsuya Station on the Chuo Line; photovoltaic power generation and storage at Hiraizumi Station on the Tohoku Line; solar panels and small-scale wind turbines at Kaihin-Makuhari Station on the Keiyo Line; solar power and hot spring heating at Yumoto Station on the Joban Line; and geothermal heat and organic thin-film solar at Fukushima Station on the Tohoku Line.
Kawasaki City laid out plans for a Kawasaki Hydrogen Project in 2015 and concluded a comprehensive partnership agreement with JR East to introduce hydrogen energy at public facilities. "The City and JR East have been working together on various projects, including opening new stations, developing areas near stations, and introducing child day-care facilities in station buildings. This time, we will cooperate on an initiative to make Kawasaki a low-carbon smart city. The city will not provide financial support for the project but will facilitate approval and licensing procedures. The utilization of land owned by the city is also being considered," says the office in charge of the Smart City Project in the city's General Planning Bureau (hereafter Kawasaki City).
The project at Musashi-Mizonokuchi Station will feature eco-friendly technologies with four objectives: renewable energy generation, energy conservation, eco-friendliness, and environmental harmony. Combined, they are expected to reduce carbon dioxide emissions by more than 20%. The most notable feature is the integration of a photovoltaic generation system with an autonomous hydrogen-based energy supply system. "We will introduce the hydrogen-based system with a focus on BCP (business continuity planning) measures in the event of a disaster. Toilets, for example, use electricity for pumping water, lighting, and activating motion sensors. Though the amount of electricity used for such applications is small, without power, toilets can't work properly. So we will supply electricity from hydrogen for these purposes. We will also look into the feasibility of using hydrogen-generated electricity to cut or shift the station's peak electricity demand in the summer," says Kawasaki City.
The solar generation system, manufactured by Toshiba, will have a generation capacity of 30 kilowatts (kW). The solar panels will be installed on the station roof and supply electricity to H2One, Toshiba's autonomous hydrogen energy supply system.
At a certain times, the amount of electricity generated by the photovoltaic system will exceed the energy requirements of the station. This electrical surplus, if available, can be stored for use in case of a natural disaster. For such purposes, H2One integrates six devices: a solar photovoltaic generation system, a battery unit for storing output power, a hydrogen-producing water electrolysis unit, hydrogen storage tanks, a hydrogen fuel cell unit, and H2EMS, the system controlling the other devices.
The storage battery unit will be equipped with Toshiba SCiB, a rechargeable lithium battery with a rated output of 25 kW and capacity of 44 kilowatt-hours (kWh). The performance of the hydrogen-producing water electrolysis unit is one normal cubic meter per hour (Nm3/h). (Since the volume of hydrogen changes according temperature and pressure, its mass is represented in units of normal cubic meters, or Nm3, its mass at zero degrees Celsius and one atmosphere of pressure.) The hydrogen tanks will have a storage capacity of 270Nm3. The output of the fuel cell unit will be 3.5kW.
"The hydrogen fuel cell unit in the H2One generates electricity and warm water from pure hydrogen. Although different in function, this fuel cell system uses technologies in common with those of the hydrogen fuel cell system released in March 2016 by Toshiba Fuel Cell Power Systems Corporation. That system has an output of 700W, a power generation efficiency of 55%, and an overall efficiency of 95%," says Toshiba.
Kawasaki City says, "We are now designing the general features of the Ecoste system, including the use of warm water produced by the system. We are considering two water applications: for rail and station facility users, and for commercial use. We are particularly look at using the water for cleaning and heating facilities and for restaurants."
Source: Smart Japan (in Japanese)