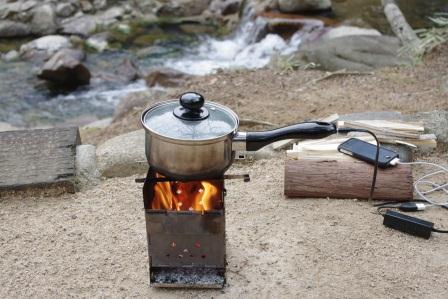 Copyright TES New Energy Co. All Rights Reserved.
TES New Energy Co., a venture company to transfer technology developed by the National Institute of Advanced Industrial Science and Technology (AIST) to the private sector, has been working on creating a new market by utilizing technology to convert heat into electrical energy since its establishment in May 2010. The company has launched a combination foldable stove and small power generation pot that can cook dishes by burning wood pieces, twigs, coal, or pellets while at the same time generating electricity to recharge a cell phone in a time of disaster. The set can be used also to recharge a portable radio by USB connector to collect disaster information while boiling snow or ice to make drinking water in an emergency.
The company will continue converting unused heat waste in the industrial world into electric power that can be used effectively, which will contribute to the reduction of carbon dioxide levels worldwide. The new technology will provide electricity easily accessible for those who have no access to a power grid.