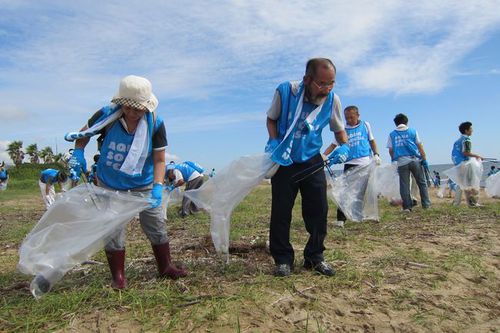 Copyright Mie University All Rights Reserved.
The Japan Youth Ecology League, a nonprofit organization (NPO) engaged in stimulating youth-led environmental activities, announced on November 29, 2013, the results of the fifth annual survey of eco-friendly university rankings in Japan. In the general category, Mie University won first place, being highly acclaimed for its environmental activities inside and outside of the campus. For example, in order to visualize environmental efforts by students and faculty members , the university created a system called MIEU Points, which provides an incentive for eco-friendly actions by honoring them and awarding prizes. It also organizes a beach clean-up event five times a year in cooperation with a local NPO.
The ranking of eco-friendly universities is determined by scores based on nationwide questionnaire surveys of university environmental efforts. The fifth survey was divided into seven sections, including carbon dioxide (CO2) emissions and energy use, resource input and environmental impact and environmental management, and had responses from 200 universities/campuses.
The survey results showed that, when comparing electricity consumption during past three years, universities that set targets for CO2 emission reduction or energy saving reduced electricity use at a greater rate than universities without such targets, and have been making continuous efforts. A total of 80 universities introduced renewable energy, accounting for 40 percent of respondents. However, the share of renewable energy was an average of only 0.22 percent of the total electricity use on the campus.