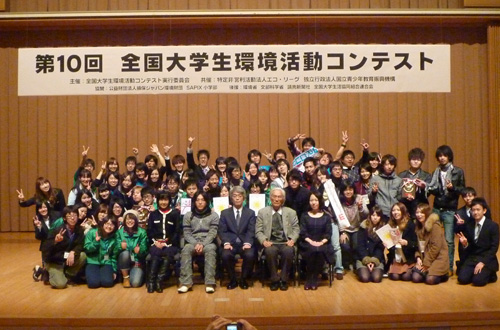 Copyright ecocon2012

The 10th National Student Environmental Activity Contest, Ecocon 2012 ("con" being an abbreviation of "contest"), was held at the National Olympics Memorial Center in Tokyo on December 26 and 27, 2012. Ecocon has been held annually since 2003 with the aim of promoting environmental activities among college students across Japan. Under the slogan "The time is now. Make a strong appeal to the world," Ecocon 2012 was organized by the executive committee in cooperation with the Japan Youth Ecology League, an environmental non-governmental organization, and the National Institution for Youth Education. The event also received support from SAPIX Primary School Division and the Sompo Japan Environment Foundation. Members of the selection committee were well-informed people and students from around the nation.
The two-day program consisted of a preliminary selection process held in each of the seven sub-groups, a gathering called "Ecopa" (ecocon PARTY) for mingling with other participants, working sessions called "Ecot" (ecocon TALK), the final selection from the seven candidates, and the awards ceremony. Six "Ecot" sessions were held for participants to discuss various topics, including North-South relations and environmental issues.
The Chari Saga Saisei program at Saga University won the grand prize and the audience choice award for their efforts to repair and recycle abandoned bicycles. The second-place prize was given to the laboratory of Isami Yasuhiko, associate professor of Kyushu Sangyo University, for its initiative to revitalize the local community with bamboo which had been poorly-utilized. The winners received award certificates and grants for their activities.
Related JFS article:
'Ecocon 2008' Showcases Student Environmental Activities in Japan