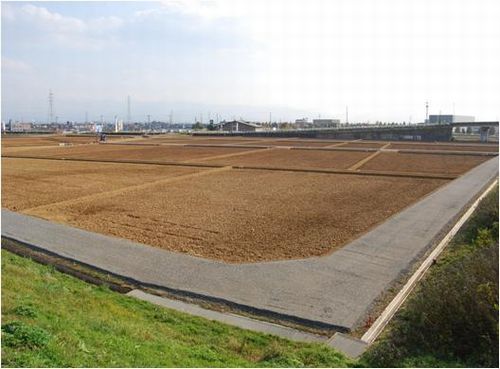 Copyright Toyama Prefecture

Toyama Prefecture held a ceremony on March 17, 2012, to mark the completion of a 33-year project named special prefectural land improvement program to restore cadmium-contaminated rice paddies along the Jinzu River. Out of 1,686 hectares subject to the restoration plan, 863 hectares of farming field have been restored at a total cost of 40.7 billion yen (about U.S.$496 million). The remaining area is to be developed as a building site for .public facilities and houses. In addition, 120 hectares of land has been voluntarily restored by local farmers, resulting in 983 hectares of restored land.
The Jinzu River was contaminated by cadmium released by the Kamioka mine in Hida City, Gifu Prefecture. Because the river had been a water source for the basin area, cadmium-contaminated water led to an outbreak of Itai-itai (pain-pain) disease, one of the Four Big Pollution Diseases of Japan.
In 1979, after cadmium that had accumulated in the paddy soil was detected in brown rice crops at levels exceeding safety standards, a special land restoration project for the Jinzu River basin area was launched to replace the soil. The area has been working to restore the cadmium-contaminated paddies ever since.
The cost of restoration was born by the polluter, Mitsui Mining and Smelting Co,; the Japanese government; Toyama Prefecture; and Toyama City. Itai-itai disease was the first to be recognized as a pollution-related disease in 1968, and 196 people have been identified as victims to date.
Posted: 2012/08/12 06:00:15 AM