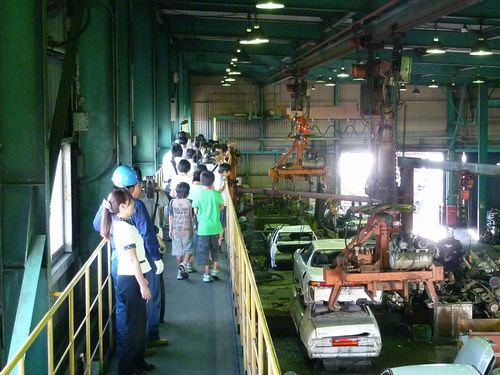 Copyright Kitakyushu City

Japan's Kitakyushu City, the Eco-model City, has made itself a school trip destination by offering environment-themed programs, which have been winning high praise from both inside and outside Japan. It aims to spur the local economy by increasing the number of tourists and to raise environmental awareness among youth who will be the leaders of the next generation.
Japanese students in elementary, junior high and high schools go on school trips including overnight stays led by school teachers and staff for sightseeing and study tours. Kitakyushu City provides a wide range of courses in which students learn about the prevention of global warming, the promotion of a recycling-based society, and symbiosis with nature.
Some of the features of the trips include tours such as that of national top-ranking Kitakyushu Eco Town, a factory of Shabondama Soap Co., or a wind-power plant, as well as hands-on studies such as planting trees at former industrial waste disposal sites or making wind power generator kits using scrap wood. The city also provides various measures to enjoy learning about the environment, such as planting trees with the compost made of kangaroo excrement or the stems and leaves of tomato plants, having eco-lunch with lunch boxes and chopsticks made from recycled materials or eco gifts made of scrap wood from sofas.
Many students who participated in the program said that the trips enhanced their environmental awareness in daily life because they learned the various environmental efforts made by Kitakyushu. The city is planning to create unique itineraries by combining its rich tourism resources and peace study programs.
Posted: 2011/06/20 06:00:15 AM