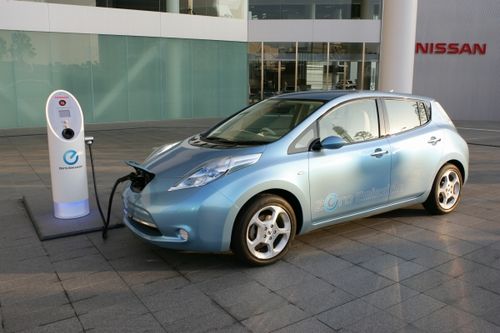 Copyright Nissan Motor Co.

Nissan Motor Co. announced on June 7, 2010, that it has received 6,000 pre-orders for its new electric vehicle (EV), the "Leaf," a mere two months after it started taking orders on April 1, achieving its domestic sales goal for fiscal 2010.
The Nissan Leaf is the world's first practical compact EV, and the company's first mass-produced EV. It is already receiving high praise for its excellent environmental performance with zero emissions, affordable pricing, and the advanced IT system that supports its operation.

Together with its partner Renault, Nissan has set goals to become a global leader in zero-emission mobility. The company has signed a zero-emission mobility partnership with more than 60 countries, cities and businesses around the world. The Leaf is scheduled to hit the market in December 2010 in Japan, the U.S. and Europe, with global mass production expected in 2012.
Nissan Motor Co. official website
http://www.nissan-global.com/EN/
Posted: 2010/09/11 06:00:15 AM