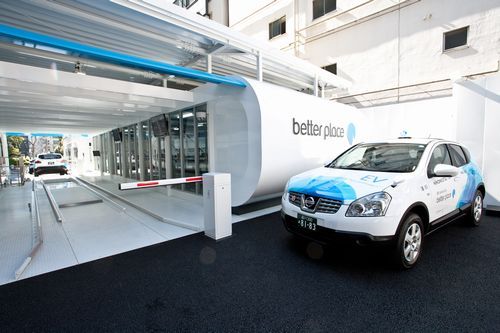 Copyright Hill & Knowlton Japan

From April 26 through July 30, 2010, Nihon Kotsu Co., a leading taxi company in Tokyo, tested the operation of electric vehicle (EV) taxis that run on replaceable batteries and a battery replacement station in cooperation with Better Place, an electric vehicle service provider. This was the first attempt of its kind in the world. During the test period from passengers were able to take such a taxi at the EV taxi station in the Roppongi Hills complex in Minato Ward, Tokyo.
The changing and recharging of the batteries is fully automated. The taxi drivers can change to fully-charged batteries in just about one minute, shorter than the time required for a normal taxi to fill its tank with liquefied petroleum gas (LPG) at a gas station, allowing the drivers to drive a longer distance in a more comfortable and easy manner.
In Tokyo, about 50,000 taxis running throughout the city. This is much more than the total number of taxis in London, Paris and New York. This trial operation also aimed to identify the feasibility of such EV taxi services in other densely-populated cities. It is also expected to provide useful data on the passenger vehicle market in future, as well as to contribute to the expansion of a charging infrastructure for EVs and such a method of battery switching.
The companies announced on August 26, 2010 that they will continue the test operation from September 1 to November 19 at the same location.
Better Place and Tokyo Taxi Company to Test World's First EV Taxi with Switchable Battery (Related JFS article)
http://www.japanfs.org/en/pages/029601.html
Nihon Kotsu Co. official website
http://www.nihon-kotsu.co.jp/en/
Better Place global website
http://www.betterplace.com/
Posted: 2010/08/18 06:00:15 AM