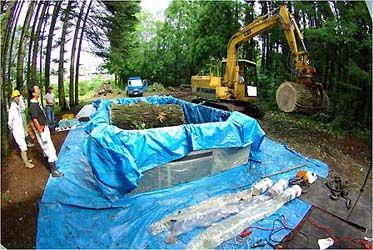 Copyright Forestry and Forest Products Research Institute

The Forestry and Forest Products Research Institute (FFPRI) in Japan announced on January 19, 2010, that it had developed a method to estimate the respiration of whole plants, including roots, in cooperation with the University of Tsukuba, the University of the Ryukyus, the Sukachev Institute of Forest of the Russian Academy of Sciences, Dalton Co.,Ltd., the Okinawa Prefectural Forest Resources Research Center, Kyoto University and Mulawarman University.
Forest ecosystems have received attention as a mitigation option for global warming, but the carbon balance is determined by the difference between the photosynthetic carbon sink of plants and carbon emissions through respiration. The respiration rate, which changes with temperature, is an important factor affecting the carbon budget.
Carbon balance in the forest ecosystem has been studied using an equation based on plant size and whole-plant respiration. However, there has been no general formula to estimate whole-plant respiration including roots due to difficulties in measurement, as well as the diversity of tree species and habitat conditions.
In this research, the FFPRI developed measurement equipment available in more than 20 sizes, which is capable of measuring whole-plant respiration at development stages ranging from seedlings to giant trees. Whole-plant respiration data have been obtained from 271 specimens of 64 plant species from tropical East Kalimantan to subarctic Siberia, thus allowing development of a general model for whole-plant respiration.
Forestry and Forest Products Research Institute (FFPRI) official website
http://www.ffpri.affrc.go.jp/e_version/index-e.html
Posted: 2010/04/25 06:00:15 AM