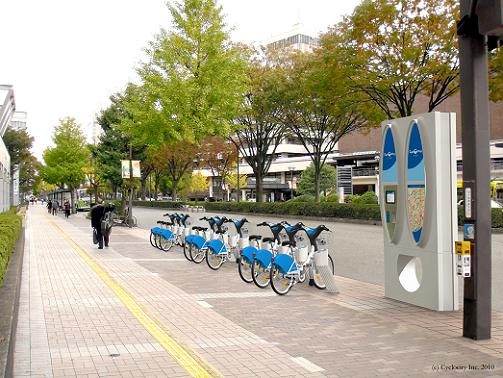 Computer Graphics: Copyright Cyclocity Inc.

Japan's first full-scale bicycle-sharing service, billed as a novel eco-friendly form of public transportation, is set to start on March 20, 2010, in downtown Toyama City, Toyama Prefecture, the city announced on November 9, 2009.
While bike-sharing services are becoming more common in major cities in Europe and the U.S., Toyama will be the first to introduce such a full-scale system in Japan. A total of 150 bicycles will be installed at 15 self-service stations in the central part of the city. Pre-registration is required to use the service, and registered users can pick up and return bicycles at any time at any rental station.
The service will be operated by Cyclocity, Inc., which was established as a subsidiary of JCDecaux, a French outdoor advertising company, with the aim of specializing in providing bike-sharing services in Japan. JCDecaux has managed bike-sharing services in 64 European cities, and boasts the largest number (42,000) of rental bicycles in the world.
Cyclocity plans to open an office in Toyama City to operate services such as the repair, maintenance, and re-distribution of bicycles between the stations.
Using Bicycles Efficiently to Create a Sustainable Society No.53 (January 2007)
http://www.japanfs.org/en/mailmagazine/newsletter/pages/
027820.html
Cyclocity Inc. official website
http://en.cyclocity.jp/misc/construction.html
Posted: 2010/02/16 06:00:15 AM