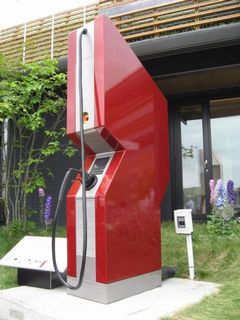 Rapid Charger : Copyright Tokyo Electric Power Co.

As the full-scale sale of electric vehicles (EVs) is to start during 2009 in Japan, charging facilities for EVs are being developed throughout Tokyo and Kanagawa. Most EVs under development in Japan can be charged through 100 V household wall sockets, and the charging costs can be reduced by taking advantage of the charge menu that overnight rate is low.
Itochu Property Development, Ltd. started to sell EV-accessible houses in Yokohama, Kanagawa Prefecture, in the fall of 2008. The houses are equipped with 200 V charging sockets in their parking garages. Power distribution to the charging socket can be operated and preset from inside the house in order to facilitate the overnight charging of vehicles.
Tokyo Electric Power Co. (TEPCO) started a verification test of charging facilities for EVs at underground parking lots of private buildings in the Otemachi, Marunouchi and Yurakucho areas on September 17, 2008, jointly with the Otemachi Marunouchi Yurakucho District Redevelopment Project Council. The trial is the first of its kind in Japan. A rapid charger is installed at one of the parking lots, and 100 V or 200 V power sockets (the most ordinary voltage in Japan) installed at eight other parking lots.
According to TEPCO, EVs can be charged with rapid chargers developed by the company as well as from household sockets. In case of rapid charging, EVs can run 40 kilometers after a five-minute charge and 60 kilometers after a 10-minute charge.
Kanagawa Prefecture to Promote Subsidies and Tax Credits for EVs (Related JFS article)
http://www.japanfs.org/en/pages/027134.html
TEPCO Press release
http://www.tepco.co.jp/en/press/corp-com/release/
08091001-e.html
Posted: 2009/05/12 06:00:15 AM