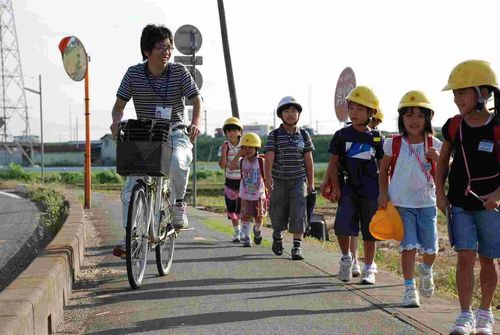 Copyright Goka Town

Town officials in Goka Town of Sashima County in Ibaraki Prefecture have been implementing an "Eco-Commuting Project" since July 2008 as a part of efforts to curb global warming. The purpose is to reduce carbon dioxide (CO2) emissions by restraining town officials' commuting by car.
Under this project, the town officials are required to commute on foot, or by bicycle, or public transport for a certain number of days in a year designated by the town government based on their distance to work. The five categories are defined according to the commuting distance: 48 target days a year for those commuting less than two kilometers each way, 24 target days for people commuting from two to five kilometers, 12 target days for commutes from five to 10 kilometers, 6 target days for commutes from 10 to 15 kilometers and 2 target days for commutes over15 kilometers.
The target for CO2 emissions reductions with this project was 1,200 kilograms for the first six months, which was achieved in the first three months of its launch. The town will continue this project in order to reduce CO2 emissions.
Posted: 2009/02/27 06:00:15 AM