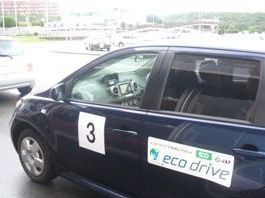 Copyright Nagoya's Environmental Affairs Bureau
Participants of a workshop on eco-friendly driving techniques, organized by the Japanese city of Nagoya's Environmental Affairs Bureau, on June 22, 2008, reportedly achieved an average 32 percent improvement in their fuel efficiency. The workshop was held at the Toyota Chubu Nippon Driver School in Aichi Prefecture, in cooperation with the Department of the Environment of the Aichi Prefectural Government and the Aichi Branch Office of the Japan Automobile Federation.

The twenty workshop participants were first asked to drive their cars the way they normally do, with each vehicle equipped with a fuel consumption meter. They next attended a lecture on global warming and other environmental issues, and also learned about eco-friendly driving techniques, such as accelerating gradually after startup and taking their foot off the gas pedal earlier to make a stop. After the lecture, the participants drove the same course again.
On the second driving test, one participant achieved a 136 percent improvement in fuel efficiency, which was the highest among the participants. After the test, each was given an "eco-driving certificate" that included the gas mileage recorded on their first and second driving tests.
Four similar workshops were held in Nagoya in fiscal 2007 and 2008. The workshop organizers expect that offering practical driving lessons will help citizens learn and experience the effectiveness of eco-friendly driving techniques. They also want people to realize that eco-friendly driving not only reduces fuel cost but also leads to the reduction of carbon dioxide emissions and other air pollutants.
- Nagoya City official website
http://www.city.nagoya.jp/global/en/
Posted: 2009/01/14 06:00:15 AM