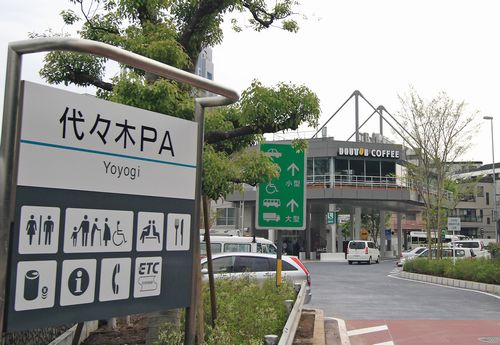 Copyright Metropolitan Expressway Co.

Japan's Shutoko Group (Metropolitan Expressway Co. and Metropolitan Expressway Service Co.) reopened its revamped, more eco-friendly Yoyogi parking area on Route 4 of the Shinjuku Line (inbound) on April 26, 2008.
With this renewal, the number of cars that can be parked in the parking area has increased to 41, which is about twice as many as its conventional capacity. In the rest rooms, larger toilet stalls were installed so that elderly people and those with children can use them more easily. The Group also increased the number of multipurpose restrooms equipped with a nursing-care bed for adults. The concept of universal design has been adopted in every part of the facility.
Electricity generated by solar panels provides the power needed for lighting and other electrical needs, and a hybrid [ Electric power facility ] utilizing sunlight supplies power to the public for free to recharge their cell phones.
The facility features many other innovations, including the non-heat-retaining insulated pavement used in the parking lot, greenery planted on the roof and the barrier that divides the main expressway lanes and the parking area, and multi-pane low-heat-transfer windows. Other environmental concerns are being addressed by doing things such as installing planter boxes on the facility's wall and planting tall trees on the grounds. In addition, the Group aims to create green spaces that complement the local environment of the adjacent Meiji Jingu forest.
- Metropolitan Expressway Co. official website
http://www.shutoko.jp/english/
Posted: 2008/12/13 06:51:54 AM