15 LIFE ON LAND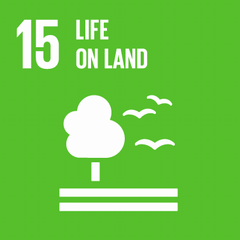 Protect, restore and promote sustainable use of terrestrial ecosystems, sustainably manage forests, combat desertification, and halt and reverse land degradation and halt biodiversity loss.
Status in Japan
As of 2012, terrestrial protected areas accounted for 14.93% of Japan's land area, compared to the OECD average 12.29%.
Source: Sustainable Development Goals: Are the rich countries ready? Bertelsmann Stiftung, 2015, page 82.
As of March 31, 2012, forested area in Japan covered 25.08 million hectares.
Source: Forestry Agency, the Ministry of Agriculture, Forestry and Fisheries, 2012.
More info: Annual Report on Forest and Forestry in Japan, Forestry Agency, Ministry of Agriculture, Forestry and Fisheries, 2012.
Updates on Government Policies in Japan
Note:
Where possible, JFS referred to Japanese official government sources for statistics cited. In cases where the official source did not include an English translation, in some cases we added statistics from international sources.
In some cases, we list "More info" for anyone wishing to do further research.
Related JFS Articles
Japanese groups working to achieve the SDGs goals
(*) Japanese only.