7 AFFORDABLE & CLEAN ENERGY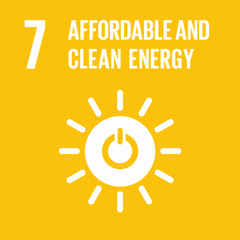 Ensure access to affordable, reliable, sustainable and modern energy for all.
Status in Japan
In FY2013 (April 2013 to March 2014), renewable energy accounted for 2.2% (excluding hydropower, which was 8.5%) of the electrical power supply.
Source: Ministry of Economy, Trade and Industry, 2015.
Updates on Government Policies in Japan
Note:
Where possible, JFS referred to Japanese official government sources for statistics cited. In cases where the official source did not include an English translation, in some cases we added statistics from international sources.
In some cases, we list "More info" for anyone wishing to do further research.
Related JFS Articles
Japanese groups working to achieve the SDGs goals