2 ZERO HUNGER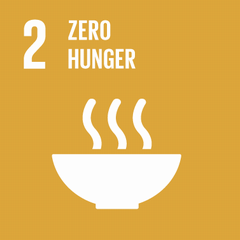 End hunger, achieve food security and improved nutrition and promote sustainable agriculture.
Status in Japan
7.1% of people aged 29 years or less responded "often" or "sometimes" to the question "In the last 12 months, how often have you or your family: Gone without enough food to eat."
Source: World Values Survey 2010
Average daily food expenditures were 300 to 399 yen (approx. US$2.85 to 3.00) in economically challenged households with children which had received or were currently receiving food from Food Bank Yamanashi in Yamanashi Prefecture (figures represent expenditures when family was not receiving Food Bank support).
Source: Joint survey in 2014 by Food Bank Yamanashi, NHK, and University of Niigata Prefecture).
Updates on Government Policies in Japan
In 2009, Japan's Ministry of Agriculture, Forestry and Fisheries launched a project to research both domestic and overseas food banks' activities, and to report and analyze current conditions and barriers of Japanese food banks.
Note:
Where possible, JFS referred to Japanese official government sources for statistics cited. In cases where the official source did not include an English translation, in some cases we added statistics from international sources.
In some cases, we list "More info" for anyone wishing to do further research.
Related JFS Articles
Japanese groups working to achieve the SDGs goals