1 NO POVERTY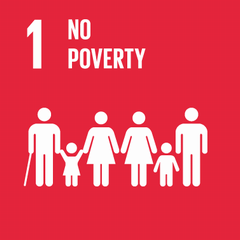 End poverty in all its forms everywhere.
Status in Japan
In 2013, Japan's relative poverty rate was announced to be 16.1%
Source: Comprehensive Survey of Living Condition in 2013, Ministry of Health Labor and Welfare.
Child poverty rate is on the rise. It was announced to be 16.3% in 2012.
Source: White Paper on Children and Young People 2015, Cabinet Office, Government of Japan.
Updates on Government Policies in Japan
In April 2015, Japanese government launched the "Children's Future Support National Movement" under on the "Outline on Measures to Reduce Childhood Poverty" (Cabinet decision, August 29, 2014).
Note:
Where possible, JFS referred to Japanese official government sources for statistics cited. In cases where the official source did not include an English translation, in some cases we added statistics from international sources.
In some cases, we list "More info" for anyone wishing to do further research.
Related JFS Articles
Japanese groups working to achieve the SDGs goals
(*) Japanese only.