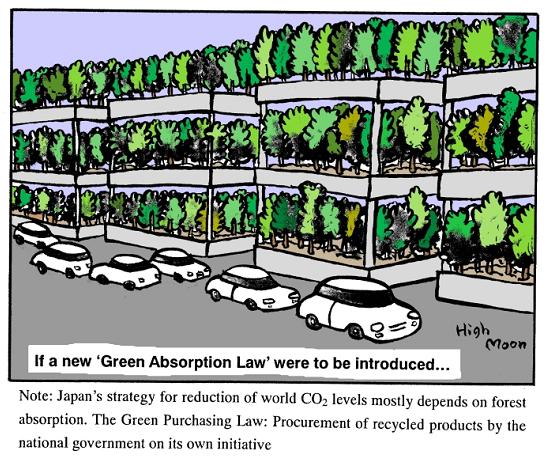 Note: Japan's strategy for reduction of world CO2 levels mostly depends on forest absorption. The Green Purchasing Law: Procurement of recycled products by the national government on its own initiative.
* Copyright Contents
All contents on this page are under copyright. Please refrain from making any reprints or reproductions without the author's permission.

These pages present cartoons by Professor Hiroshi Takatsuki.
They have been adopted and repainted in color from his cartoon collection,
HaiKIbutsu (meaning precious waste).


Author: Hiroshi TAKATSUKI (Pen-name: High Moon) *
Professor, Ishikawa Prefectural University
Member, Japan Cartoonists Association
*His pen-name is derived from his last name, which literally means high (taka) moon (tsuki) in Japanese.